The Railroad Comes To Blue Ridge
The original "Kincaid House" was built in 1890 by a gentleman named Sylvester Long. Long worked for the L&N railroad company supervising rail construction crews. The railroad industry was booming in the South and Blue Ridge was a major connecting point. Long hired a local carpenter named York to build the house on a lot just a few hundred feet from the train depot. By 1891, the house was completed with all the latest conveniences of the day. The ornamental trim, finishing work and banisters were made by hand. This fine craftsmanship still exists throughout the house today.
Following the Panic of 1893, many rail companies went bust due to overbuilding and questionable financing. This set off a series of bank failures over the next decade and hard times hit the south. The Long family moved to Etowah, Tennessee when the shops closed in 1906. The Sanborn Fire Map of 1909 indicates that the home was "temporarily used as a hotel" and notes on the 1910 census refer to it as the "Spring Water Hotel".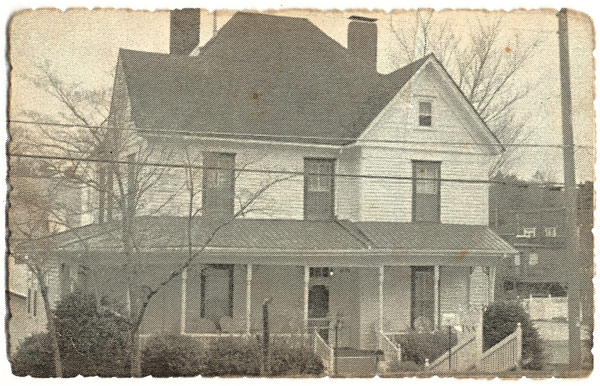 The Kincaid Era
James Kincaid bought the building in 1909 for the sum of $2,500. He chose this house because, unlike several other houses up for sale at that time, it had indoor plumbing; a rare amenity for the time. James Kincaid was the first Ordinary of Fannin County. This old fashioned term meant he was in charge of the Probate Court that dealt with wills and estates. When living in Morganton in 1854, he donated the land for the first county court house. The Kincaid family lived here after his death. Daughter Bana and her brother never married and resided in the house until their deaths.
The Dardens
In 1996 the home was purchased by Milton Darden who converted it into a bed and breakfast. The Darden's ran the Inn until 2012.
The Inn Today
In 2016, new Owners purchased the Inn from the Watts who had recently owned the Inn for the past 5 years. The Watts had in turn purchased the Inn from the Dardens. Today, the Inn continues to carry on the friendly Southern hospitality so characteristic of Blue Ridge. The three-story, Victorian home features 8 guest rooms, 8 fireplaces, 12-foot ceilings, original hand-carved woodwork, heart of pine floors, and claw foot tubs. Come visit us and enjoy the history, renewed charm and great southern hospitality.